LISTEN: HOW PETE SEEGER GOT AMERICA SINGING, illustrated by Raúl Colón. Neal Porter/Roaring Brook Press.
I've done a whole bunch of interviews with hosts of progressive radio stations--and one cable tv show-- about the book. Please see "Visits/Dates" for links, since I can't figure out where else to put them. Because I am actually a very shy person, I haven't listened back to some of these. What if I sound like an idiot? But I thank the hosts from the bottom of my heart.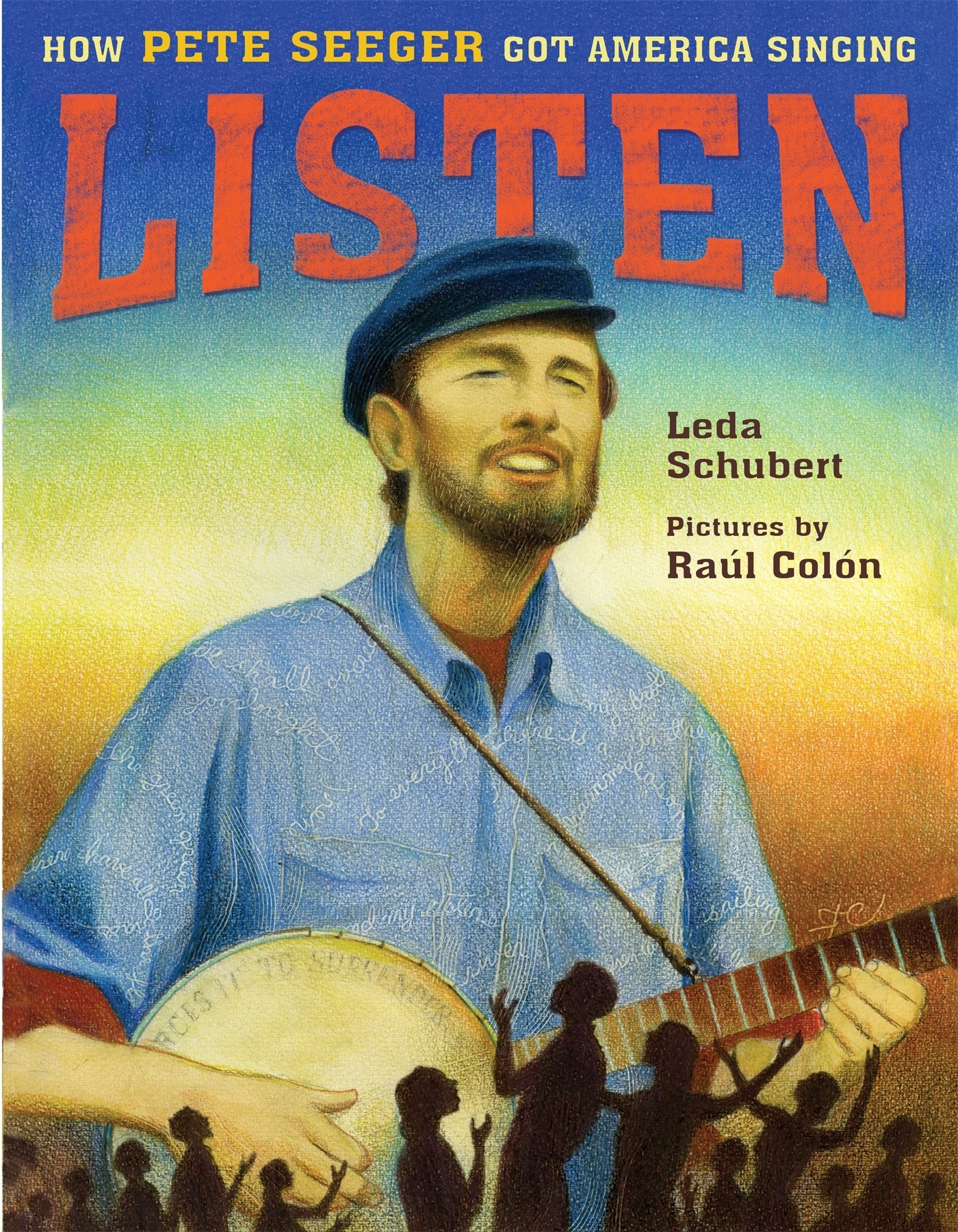 A picture book about my hero, Pete Seeger.
The first review was a starred one from Kirkus! And here it is (again. It's also on my home page. I can't help myself.)
"Pete Seeger's lifelong commitment to songwriting, singing, and activism made him a beloved figure in American music.

"Pete sang old songs, new songs, old songs with new words, and songs he made up." Schubert intersperses her simple, graceful text with the titles of three dozen familiar songs written or made famous by Pete Seeger, demonstrating how thoroughly Seeger's music permeates the American folk-singing tradition. Colón's richly colored and textured full-color illustrations convey the warmth and joy Seeger demonstrated in making and sharing music. Seeger is shown singing with the Weavers and with his friend Woody Guthrie as well as with crowds large and small. The faces of his audiences and singing companions across all the years are diverse. One striking double-page spread following the account of Seeger's 1957 citation for contempt by the House Un-American Activities Committee subtly conveys the changing landscape and struggles of the laborers Seeger championed. A highway crosses hills where people are working the fields; a large billboard in the foreground advertises a 360-acre golf course down the road. Schubert and Colón capture with affection and respect Seeger's remarkable lifetime of speaking truth to power through music and engaging the hearts of his audiences. A biographical timeline includes a charming selection from a boyhood letter, contemplating a banjo purchase; the generous resource list includes source notes and recommended recordings.

Schubert and Colón ably demonstrate one of their book's final assertions: "there really was nobody like Pete Seeger." (Picture book/biography. 4-9)"
From Publishers Weekly, June 5, 2017:

Schubert (Monsieur Marceau) lyrically sketches the life of Pete Seeger, emphasizing how music aligned with the causes he believed in and weaving in references to his songs throughout. Colón's graceful illustrations, featuring his distinctive etched textures and pale light, underscore the environmental aspects of Seeger's activism and his belief in the power of community: "Participation. That's what's gonna save the human race." An author's note and timeline round out a rousing tribute to a singular musician and activist who "walked the talk." Ages 5-9.
School Library Journal, May 1: This inspiring picture book biography about one of America's greatest folk heroes is sure to get a new generation of children singing. Filled with Colón's signature illustrations, the book introduces young readers to Pete Seeger—the musician, political activist, and environmentalist, while also filling them with hope. A champion of unions, farmers, civil rights, children, and clean rivers, "Pete didn't care about fame or money. He cared about justice, peace, equality, and people everywhere." While the narrative focuses on his adult life, a detailed time line of his entire 94 years is included. Original and traditional songs, such as "Down by the Riverside," "Where Have All the Flowers Gone?," "Abiyoyo," "Michael Row the Boat Ashore," "This Little Light of Mine," and "If I Had a Hammer," are highlighted in blue throughout the text, just begging to be heard and sung. The word listen is also repeated several times in the book. The watercolor and colored pencil art captures the joy of the singer and his audi­ences, old and young, as well as his country life along the Hudson River and his work leading protests. Susanna Reich's Stand Up and Sing!: Pete Seeger, Folk Music, and the Path to Justice is a longer, more inclusive biography, better suited for reports, while Schubert's offering is ideal for shared reading. VERDICT Buy this book and sing your heart out!–Barbara ­Auerbach, New York City Public Schools.
From Horn Book Magazine, May-JuneThis picture-book biography of folk legend Seeger lays out the events of his adult life with a focus not on dry facts but on helping child readers understand his essential spirit. The title repeats throughout ("Listen…Pete sang old songs, / new songs, / old songs with new words, / and songs he made up") and the text captures the singer's unmistakable speaking cadence. Schubert outlines Seeger's singing career with Woody Guthrie, the Weavers, and many others; his participation in marches and protests; and his work, toward the end of his life, to get people to care about cleaning up the Hudson River. She also succinctly sums up the "trouble" he got into: "The House Un-American Activities Committee of the United States Congress / questioned whether Pete was a true American. / Pete said, 'I love my country very deeply.'" Throughout, Schubert inserts into the text the titles of Seeger's many songs that fit with whatever he was doing at the time. ("He joined rallies to support the work of unions. 'Which Side Are You On?' 'Joe Hill.' 'Union Maid.'") Colón's illustrations in his familiar warm style show Pete
looking open and engaged with the people who surround him from youth to old
age, and lovingly depict the American landscape, too. The thorough back matter includes an author's note, a detailed timeline, and well-chosen further reading and
recordings. An inspiring and heartfelt tribute to, as Schubert calls him, a "true American hero." susan dove lempke

From Booklist, May 1:
"Listen," this book insists, "Pete walked the talk. / He didn't just say things, he did things." In this biographical tribute to Pete Seeger, Schubert and acclaimed illustrator Colón combine their talents to bring Seeger's legacy of music and social justice activism to contemporary young readers. Seeger's connection to the public is evident in repeated depictions of him among crowds of listeners, antiwar protesters, singing children, and the millions at the Lincoln Memorial rally. The text smoothly integrates song titles, offset in blue, to provide context that melds his music to pressing issues of the time. Thus, when Seeger turned his attention to the pollution of the Hudson River, the songs "Sailing down My Golden River" and "River of My People" underscore his commitment. Colón's sepia-infused illustrations cast warmth over scenes of solidarity and soften instances of injustice, such as when Seeger was investigated by the House Un-American Activities Committee. Both biography and history, this can be paired with Stand Up and Sing (2017), by Susanna Reich.