THE PRINCESS OF BORSCHT
The New York Times Book Review, Sunday, November 13, 2011:
"Schubert ("Ballet of the Elephants") turns the story of a sick relative, not a particularly cheery topic, into a sweet and salty tale, warmed by Christensen's lively sketches, about bickering Jewish neighbors and intergenerational caregiving."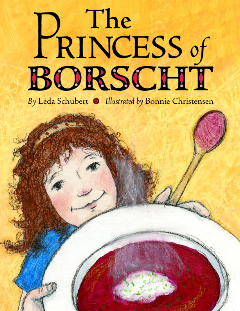 Illustrated by Bonnie Christensen, Published in November, 2011 by Neal Porter/Roaring Brook Press.
Features beets, Ruthie, Dad, Grandma, and assorted local royalty. What more could you want? A little noodle kugel, maybe?
From Kirkus Reviews, STARRED!
"Too many cooks can make wonderful borscht.

Ruthie's grandmother is in the hospital recovering from pneumonia, but the hospital food is so terrible that she tells Ruthie to bring her some homemade borscht "or who knows what will happen." Fearful of the consequences of failure, Ruthie searches for the secret recipe without success. She calls on her grandma's neighbors for help. They are, respectively, the Empress, First Lady and Tsarina of Borscht. Each gives advice and ingredients, while Ruthie adds a touch of her own. Armed with sour cream from Mr. Lee at the corner store (maybe he's the King of Borscht?), she brings the borscht to Grandma, the real Queen of Borscht, who pronounces it perfect. Ruthie has saved Grandma just in time. Of course, it's not just about borscht or even about cooking, though there's a great recipe included. Schubert has concocted a sweet mixture of traditions that bind and give comfort, along with love in many forms; intergenerational family, friends and neighbors all act with selflessness, kindness and compassion. Christensen's heavily outlined, strongly colored illustrations emphasize equally strong personalities. The paintings are filled with details that add interest to the proceedings, from the array of get-well cards in the hospital room to the homey, old-fashioned décor of Grandma's apartment.

Appetizing and heartwarming. (Picture book. 3-9)"
From THE BULLETIN OF THE CENTER FOR CHILDREN'S BOOKS:

Recommended. Ruthie's grandmother is in the hospital with pneumonia and has made one simple request: could Ruthie please bring her some borscht by five o'clock? The problem is that Grandma falls asleep before she is able to tell Ruthie the recipe.... Upon returning to the apartment to begin cooking, Ruthie is soon joined by three of Grandma's neighbors (Mrs. Lerman, Mrs. Rosen, and Mrs. Goldberg), each of whom is the self-proclaimed expert on (or, as the case may be, "Empress," "First Lady," or "Tsarina" of) borscht. While the ladies do help Ruthie get started, it is Ruthie's own intuition that leads her to add dill at the last moment, which, it turns out, is Grandma's secret ingredient. Grandma is, of course, delighted with the soup, so much so that she requests a noodle pudding for the next day (then proceeds to fall asleep once again). Schubert's warm family story is nicely patterned, with Ruthie watching the clock as each of the neighbor ladies shows up to help her. There is a touch of humor in the bickering that goes on amongst the ladies as they argue over the best way to make borscht, and audiences will appreciate the fact that Ruthie's the one with the culinary key. The art, rough-textured with paint strokes and scratchy charcoal-toned lines and shading, adds additional homespun appeal, with a cozy style well-suited to the domestic story. Pair this with variations on stone soup for a soup-themed storytime, or check it out for the weekend yourself and try out Ruthie's borscht recipe included on the back cover.
The Horn Book Magazine, November/December, 2011:
"Though the book opens with Ruthie and her father at the hospital visiting Ruthie's grandmother, laid up with pneumonia, this isn't a coping-with-death book. Bubbe's not failing, she's a finagler. Unsatisfied by hospital food ("a person could starve to death here"), she sends Ruthie to her apartment to prepare a pot of borscht. Ruthie has never made borscht before, so luckily (or is it?) Grandma's yenta neighbors — the self-anointed Empress, First Lady, and Tsarina of Borscht — come around to offer their culinary expertise. The conflicting advice — onions? no onions! sugar? no, honey! lemons?! — leaves Ruthie's head spinning until her own instincts kick in. Back at the hospital, after presenting her concoction to the expert ("for borscht, I am the Queen"), Ruthie is promptly rewarded with her own honorific of princess, not to mention another assignment: "You know, tomorrow I might like a noodle pudding." Schubert's characters, and the interactions among them, feel entirely authentic; the family dynamic is apparent (Ruthie's father: "Soup from beets?…Yuck"), while Grandma's three cronies just can't help themselves when it comes to one-upmanship. Christensen's illustrations, with their sketchlike dark lines and subdued hues enhanced by pinky-red beet-colored accents, reflect the comfortable disarray of Ruthie's family life. "Ruthie's Borscht (with help from Grandma)" recipe is included on the jacket."
From PUBLISHERS WEEKLY:

"Ruthie's beloved Grandma may be hospitalized with pneumonia, but she's still a firecracker: "[A] person could starve to death here," she tells Ruthie. What Grandma wants—and by 5 p.m., no less—is homemade borscht, preferably from her own secret recipe. Ruthie's attempt to recreate the borscht with the help of the highly opinionated women who live in Grandma's building is really several stories at once: Ruthie's discovery of her inner chef (she becomes the borscht "Princess" to Grandma's "Queen"); her initiation into the guild of elite home cooks; and an affirmation of membership in a loving—if also interfering and contentious—community. Christensen's (Fabulous: A Portrait of Andy Warhol) exuberant, sketch-style drawings have a knowing humor and immediacy that pull readers into the story; her Rosie is by turns bemused and befuddled, but her gentle determination shines through. Likewise, Schubert (Feeding the Sheep) hits just the right notes of sweet, sour, and salty in portraying a milieu in which operatic emotions, bickering, and sharp remarks ("Pooh. What do they know?" says Grandma of her peers) are really a form of unconditional affection. Ages 4–7."