BALLET OF THE ELEPHANTS
Texas Bluebonnet Award Master List, 2007-8
Horn Book Fanfare, December 2006
Kirkus Editor's Choice, December 2006
NYPL 100 Titles for Reading and Sharing
2006 New York Times Book Review: May 14
New York Times Editor's Choice, May 21
A Junior Library Guild Selection
Starred in Kirkus, 3/15/06
Starred in Horn Book, July/August 06
Great Lakes, Great Books Masterlist (Michigan)
NYPL: "Children's Books 2006: 100 Titles for Reading and Sharing"
CCBC Choices, 2007
BCCB Guide to Gift Books, 2006
"Leda Schubert's deft, incisive way of telling the incredible story will set young minds spinning." Jed Perl, NYTBR!
Any translators out there?
A youtube video, in Russian, about Circus Polka! Jolly fun. Thanks to a reader for sending this on. Click above.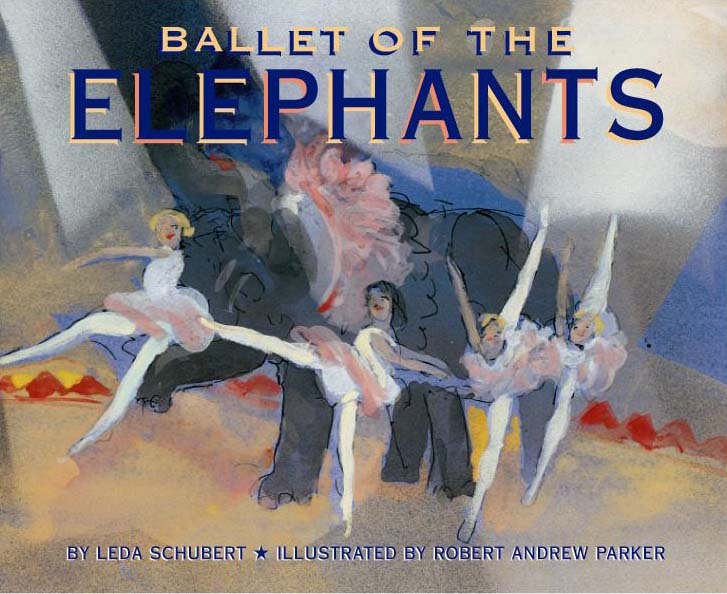 The San Antonio Symphony and the S. A. Youth Orchestra did a May, 2007 program using "Ballet of the Elephants," my very own book. This is EXTREMELY cool. So cool I can hardly believe it, actually. Can you?

Horn Book Magazine chose BALLET OF THE ELEPHANTS for its annual Fanfare. And Kirkus chose BALLET for its year-end Editor's Choice. Pinch self, pinch self, self is black and blue.

The May 14, 2006 New York Times Book Review had a fantastic review (if I do say so myself, which I do) of Ballet of the Elephants. Jed Perl, the reviewer, is art critic for the New Republic and an author as well; he is also my new best friend, even though I have never met him.

BALLET was a Planet Esme Pick for 2006!
What's it about?
The spotlight flashes through the crowds
under the Big Top.
Countless clowns climb out of a tiny car.
Gymnasts form a gravity-defying pyramid.
Trapeze artists fly high above the spectators.
And then
in all three rings,
fifty elephants,
their feet on each other's backs,
their crowns glittering,
their tutus fluttering,
dance with fifty ballerinas.
Their steps choreographed by George Balanchine,
their polka written by Igor Stravinsky.
How did it happen?
Like this.
From THE NEW YORK TIMES BOOK REVIEW, May 7, 06:
"...Leda Schubert's deft, incisive way of telling the incredible story will set young minds spinning. ... This is a true-life adventure that has some of the unexpectedness of a tall tale, and Schubert weaves the strands together with a flashing speed ..."
And: "What may at first interest children as a circus story turns out to contain many other stories, and for a young reader who has some as yet inchoate fascination with the arts, 'Ballet of the Elephants' offers the excitement of glimpses, perspectives, possibilities."

starred review, HORN BOOK, July/August: "[raises} the barre for clarity in nonfiction...give Schubert and Parker a standing ovation."

starred review, KIRKUS, March 15, 06
"...Schubert's understated but informative text contrasts delightfully with the grand goings-on as elephants rehearse for weeks in lovely pink tutus. With Modoc, an Indian elephant performing a pas de deux with Vera Zorina, a popular ballet and Broadway star, the staging was a dazzling success. Parker's watercolor designs swirl about, capturing the procession of elephants, the skyline of St. Petersburg and the exuberance of four-legged creatures looking even more elegant than ballerinas. An afterword and photographs provide additional information and confirm that the ballet, occasionally performed today with ballet students, actually took place. A charming tale to share with young fans of the circus and ballet."

From SCHOOL LIBRARY JOURNAL, April, '06
"In a smooth storylike narrative, Schubert weaves biographical details about the participants with descriptions of the preparations, rehearsals, and dazzling performance...Clearly written and vividly illustrated, this book provides a unique introduction to three interesting individuals and a look at a curious moment in musical history."

From BOOKLIST, April, '06
"Schubert's book tells an astonishing true story about circus elephants in the U.S...The words are simple and lyrical ("they let the audience see the music and hear the dance"), and the beautiful, freely sketched double-page ink drawings, tinted with watercolors, celebrate the excitement and glamour of the huge animals' dance." Hazel Rochman

From PW, April '06:
"A memorable piece of circus history takes center ring in Schubert's (Here Comes Darrell) fact-filled tale."

From Planet Esme
"This title belongs in the center ring. A book like this can bring home the truth to the magical promise: if you can dream it, you can do it."